Adopt Kittens & Very Young Cats


If you are thinking about kittens – think rescue kittens
It is important to remember that little kittens quickly grow into adult cats, so please consider the commitment you are making very carefully. Each little kitten, if he or she is healthy, will live for around 16 to 20 years.
Please note that we prefer our kittens to be homed in pairs, although on occasions we will home them singly.
So, if you or someone you know are thinking about furry additions to the family, please think about rescue kittens and contact us on 07538 967003

Please Note:
Kittens do not leave our care until they are 12 weeks old. This is best practice and is beneficial for both the kittens and new owners.
We have more pregnant Mums, and kittens from 5 weeks to 6 months of age

To watch our Springtime Kitten Diary videos, please scroll down the page
Names:

Basil, Bee, Bella & Bonnie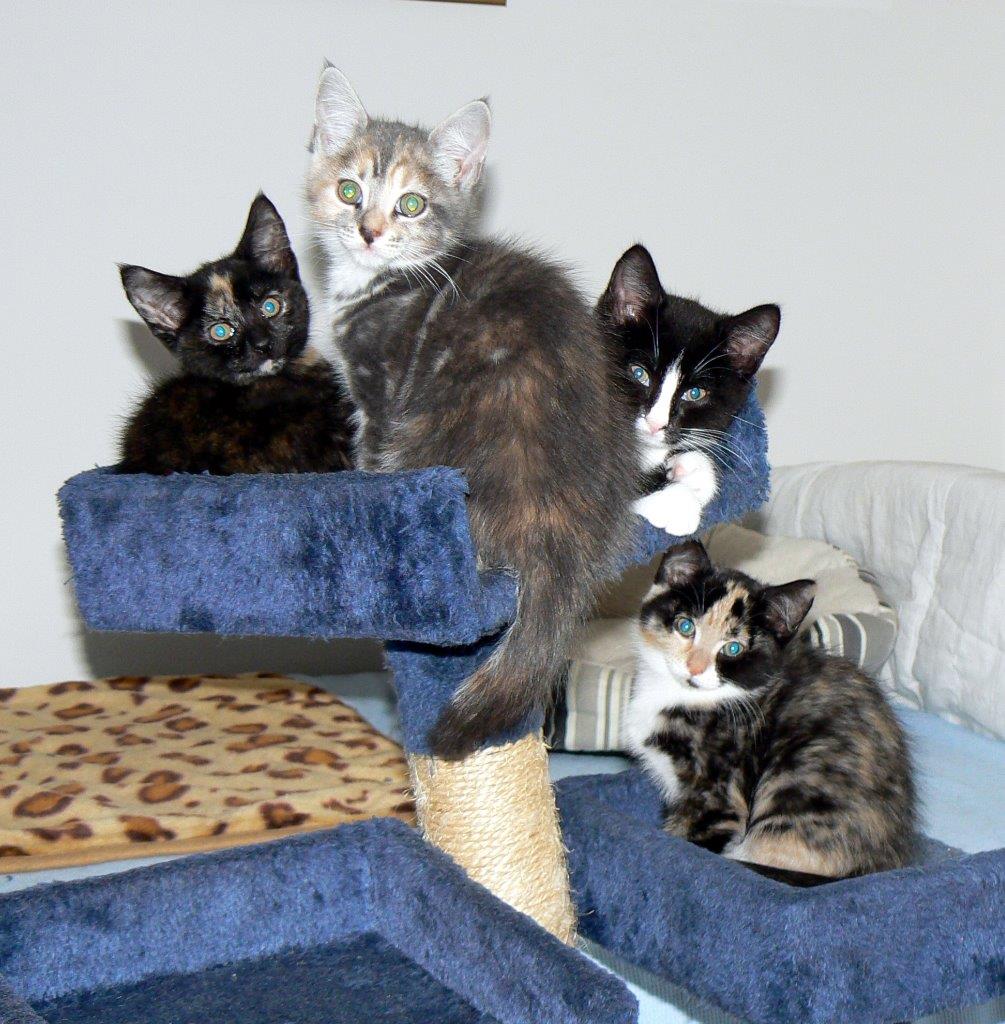 Age: 10 Weeks Gender: Male & Female Breed: DSH

About:
This stunning litter of kittens have just come back to our centre after being in their mum and kitten foster home with our fantastic fosterers Clive and Willow.
They are available to be viewed and booked and they are beautiful, playful, cheeky little scamps who love to get up to all kinds of mischief!
We prefer to home our kittens in pairs as this helps them to settle into their new life smoothly and without issues, although if you have a lonely cat or kitten at home already, we may consider one. If you are thinking about kittens, please get in touch by calling our centre on 01580 241632 or by emailing us via our contact page.
Names:
Angus & Amos

**
HOME OFFERED **
Age:

10 weeks

Gender:

Male

Breed:

DSH



About:
Angus is a classic ginger tabby boy and his brother is a traditional ginger and white lad.
These little boys were born under a garden shed and spend the first three weeks of their lives in this uncomfortable way. We took them in along with their mum and little sister and they soon got used to human company.
They are sweet and friendly but not the most pushy kittens in the world, preferring kind humans to make the first move.
If you have always wanted a stunning pair of gingers, these stunning little lads really do fit the bill and if you can offer them a safe and loving, calm home please let us know. Our centre number is 01580 241632 or you can email us via our contact page.

Names:

Glen, Toby & Gina
Age:

12 weeks

Gender:

Male & Female

Breed:

DSH



About:
Glen, Toby & Gina are stunning jet black babies.
They are sweet, friendly, confident and playful - the perfect kittens for a loving and caring home.
They are particularly closely bonded and we would like them to go as a trio.
If you are interested in a ready-made little furry family, please contact us on 01580 241632 or email us via our contact page.
Names:

Astra & Azari
Age: 12 weeks Gender: Male & Female Breed:

About: (photo coming soon)

Astra is a cute little tortie girl and Azari is an adorable black boy.
This pair of adorable kitties are available to leave our care and go to a loving new home.
They are sweet, friendly and playful and are developing as they should.

If you are looking for a pair of kittens, please let us know by calling us on 01580 241632 or email us.
Jasmine, Jinks, Jazz and their Mum Jenny were our first Kitten Diary Stars of 2019.
You can watch all four episodes of our Springtime Kitten Diary here!
These gorgeous babies, born in the Spring are available to book now!
© Copyright Rolvenden Cat Rescue | Registered Charity Number 1141631 | All rights reserved | 07538 967003