A Narrow Escape For Topaz & Her Babies
In the first week of September, a tiny and heavily pregnant Blue Point British Shorthair was handed into our care. She had been struggling to survive on the streets and but for her pregnancy bulge, was very thin. A week later she began to give birth.
She gave birth to two kittens, not without difficulty and it soon became clear that she was in terrible trouble. She was unable to give birth to the rest of her litter and our vets had no choice but to try to deliver the remaining babies by ceasarian section. This carries
significant risks as the anaesthetic necessary for this procedure can have a very damaging effect on the kittens, but without it Topaz herself would surely have died, leaving her two naturally born kittens motherless. Of the remaining three unborn kittens, two died during the ceasarian and the other survived for just two weeks.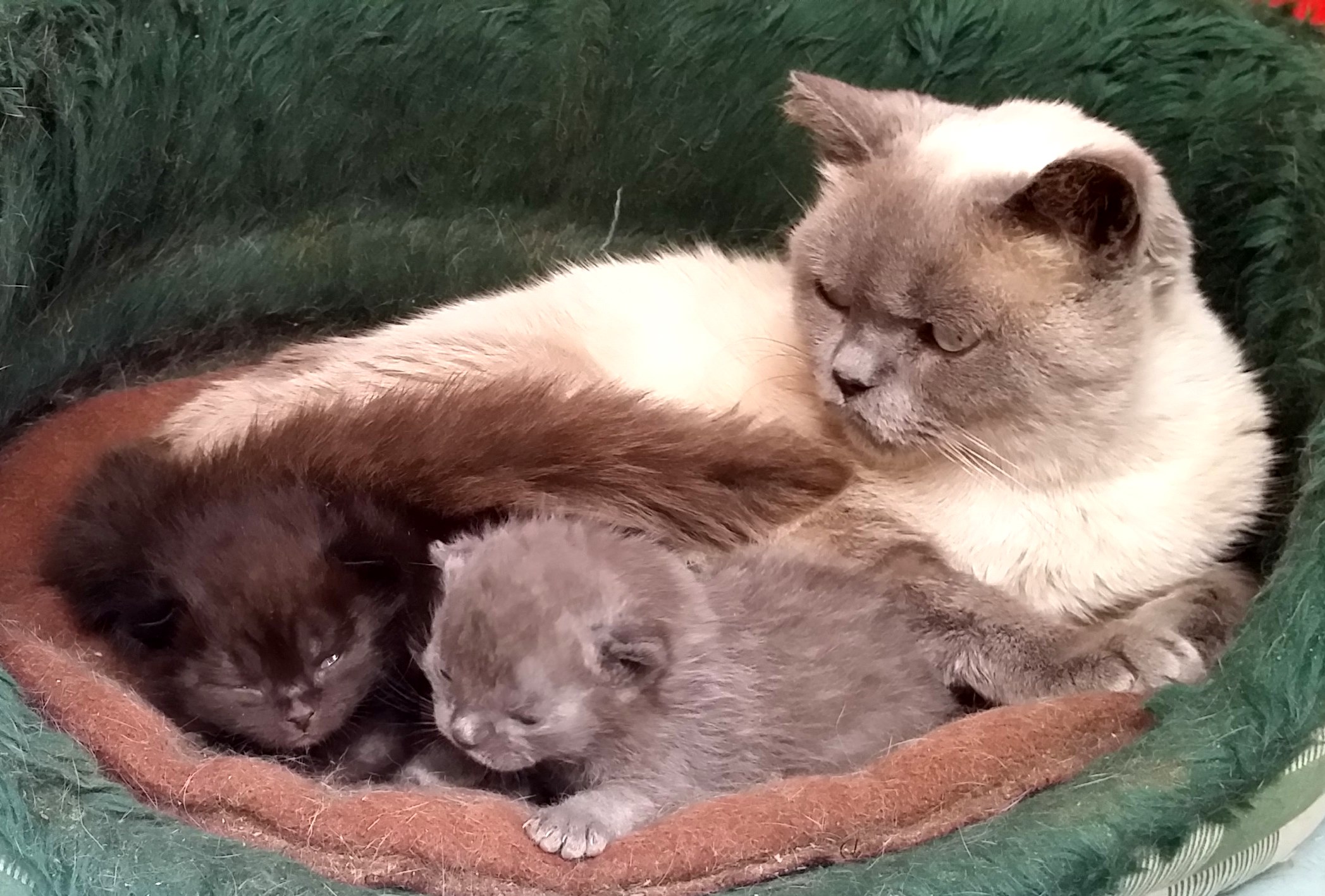 Topaz was a young cat and she is very small. How on earth she became homeless is a mystery as she is not microchipped, nor had she been reported as missing; but what is absolutely certain is that had she not come into our care, she would have died in unspeakable agony and her two babies, Tanzi and Opal would have starved to death beside her. What a difference a week made and thank goodness she wasn't left to suffer.
We and our vet believed that this was her first litter and it was certainly her last, as she was of course spayed. She didn't have a clue what to do with her kittens at first, but Topaz has settled down and is now a great little mum to her two adorable surviving babies.
Tanzi and Opal do appear to be every inch British Shorthairs like their mum. As we have seen many times before, abandonment happens to all types of cat, whether domestic or pure breeds, but importantly we are so glad that we were able to prevent an extremely sad occurrence from being a complete tragedy. If you see a cat hanging around, whatever breed they are, please don't just assume they must belong to someone as it could be their last chance.
We hope you enjoy their short films starting at just two weeks old.
Video No. 1 – Topaz, Tanzi & Opal

Video No.2 October 2015.
Tanzi and Opal are now just over two weeks old and are developing beautifully. Just click on the video below to see how they are coming along, and of course their protective mum Topaz.
Video No. 3 – November 2015
Tanzi & Opal are growing and are now active little lovelies…
Video No. 4 – December 2015
Topaz, Tanzi and Opal have been offered new homes!
In this video you can see Tanzi and Opal playing and chasing each other and dear little Topaz looking calm and happy.
All three of these beautiful cats found loving homes - Topaz to one and Tanzi and Opal together.
Copyright © 2019 Rolvenden Cat Rescue | Registered Charity Number 1141631 | 01580 241632 |All rights reserved