Beatrice - Homeless & Hungry
A week into January 2014 we were called about Beatrice.
She had appeared at a lady's house as she returned home and as she opened her front door, despite being weak with hunger and tiredness, had rushed past her into the house and refused to budge!
She was dirty, exhausted and starving and clearly needed help, so this kind and caring lady telephoned us. We were not able to bring her into our care until the following day, so she and her family bedded her down, fed her and kept her warm until morning.
Once in our care we could see the harsh time she has had – she had ear mites, was filthy dirty, extremely thin and she could have been eight or eighteen years old. Like all of the poor homeless cats we bring into our care, she is sleeping a lot; however, we are pleased to say she has a healthy appetite and is tucking into plenty of tasty food which will help her on her road to recovery.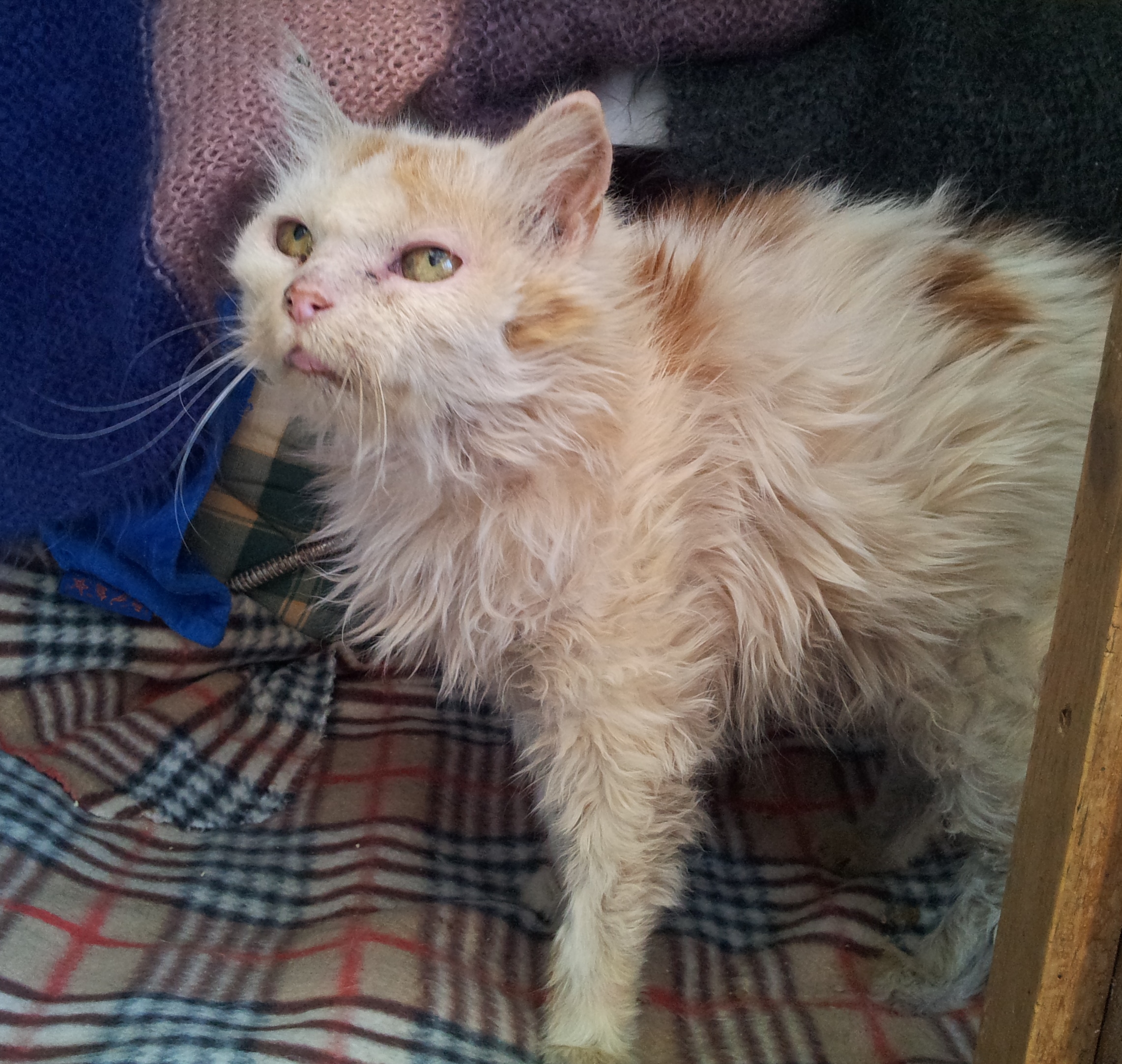 We are treating her ear mite infestation and are concentrating on building her up. When cats are happy and healthy, fastidious grooming is an essential part of their everyday life, but because all her energies have been concentrated on just staying alive, Beatrice has not been grooming herself for some time. We will need to clean her up, brush her coat and help her to begin grooming again.
For all her trials, Beatrice is a loving and extremely affectionate puss who purrs readily and adores attention.
This story already has a happy ending, as a few days after being handed into our care, the lady whose house Beatrice chose as a place of refuge called us to offer her a home. She and her family have thought a lot about her and in the end felt that she had chosen them, so they are meant to be together. We couldn't be happier for Beatrice and when she is restored to health, she will start her new life with the kind people who, when she asked for help, cared enough to save her.
Beatrice Goes Home – February 2014
This week we waved goodbye to Beatrice, the elderly puss who came into our care in a far from happy state.
In the weeks that she stayed with us, she went from being weak and dirty to a much stronger, brighter, cleaner girl and showed a strong personality and will to survive. She has had a dental treatment and she is now free of ear mite, fleas and worms.
Her new home was waiting for her, and she has settled in immediately! Her new mum, Hayley, posted a message on our Facebook page that really warmed our hearts, which said;
"Beatrice (now called trissy ) is settling in very well she hasn't stopped purring since she got home this morning and is currently curled up on our bed having a sleep, she surprised me at being able to jump up so high!! I think she's a very happy little girl now. Thank you for helping her on her road to recovery, hopefully now she's got a safe loving warm home she will go from strength to strength. X"
Such wonderful news……
We have completed her story with a second video which we hope you will enjoy.
Copyright © Rolvenden Cat Rescue | Registered Charity Number 1141631 | 01580 241632 |All rights reserved