Cherry - Pregnant & Shamelessly Dumped!
Little Cherry, a very young cat had clearly already had numerous litters of kittens.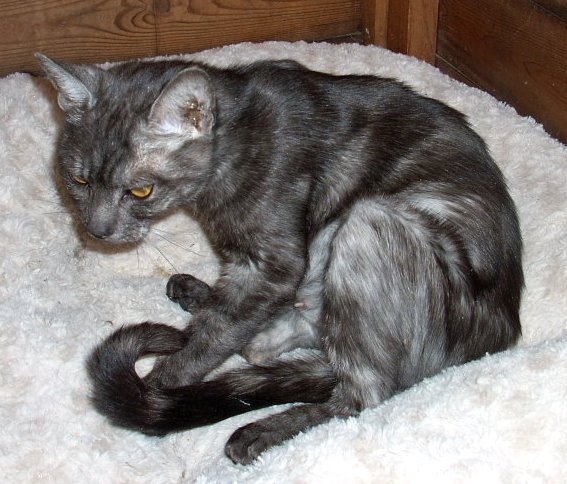 Because of this her own growth had been impaired, making her small and undersized. She was also extremely thin and malnourished.
Heavily pregnant, she was disgracefully thrown out of a car which then simply drove away. She wasn't even put into a box, which meant she then needed to be caught. She is a friendly, pretty little Oriental xcharcoal tabby girl who has clearly known a great deal of handling by the people who callously disposed of her in this manner.
She settled into her den very well and with her sweet, trusting nature she loved to be stroked and petted. She became a firm favourite with our team of cat whisperers!
No sooner had we mentioned Cherry's kittens, than she gave birth! She had them in the early hours of Friday morning (26th July 2013), and we are relieved that both she and her kittens were healthy. They were all underweight however but doing OK.
This video was taken when the kittens were not much more than 2 hours old. We made further videos as the kittens started to grow, so you can see their progress.
Cherry & Her Kittens – Video Diary Update! (2nd August 2013)
We were so pleased with how Cherry and her kittens were coming along – you can see for yourself by viewing our video below…
Cherry & Her Kittens – Video Diary Update No. 2! (16th August 2013)

Cherry's little babies are starting to move about – we have posted their latest video below….
Cherry & Her Kittens – Video Diary Update No. 3! (25th August 2013)



Now that Cherry's babies are getting bigger, they are starting to get involved in plenty of kitty playtime!
Cherry & Her Kittens – Video Diary Update No. 4!
OMG! These kittens have grown and are showing themselves to be cheeky little Monkeys and are so beautiful! Their Mum Cherry is absolutely stunning too.
This family of six stunning cats all found loving homes and a pair of them featured in our first annual calendar.
Copyright © Rolvenden Cat Rescue | Registered Charity Number 1141631 | 01580 241632 |All rights reserved