A Christmas Day Rescue for Santa!
On Christmas day Ruth and Allan always hope for an uneventful day, when they can restore their energy and take a well-earned rest. This is not always the case and the 25th December 2020 was just one of those days.
They were feeding the cats in their care and getting ready for the regular cleaning of litter trays etc. (they obviously don't stop on Christmas day) when they received a call from a lady about a stray cat. She had been trying to find out if he belonged to anyone for around two and a half months, but nobody had come forward and although she had put out some food for him, he was looking increasingly bedraggled and thin.
With the weather becoming more wintry and the temperature dropping rapidly she was rightfully worried. The problem was that he was afraid, and so she was unable to get near enough to him to pop him into a carrier.
On hearing this, Ruth and Allan quickly completed their breakfast rounds and got a humane trap to the lady by late morning. This was duly set and the cold and hungry little cat was ready to collect by 4pm.
On his arrival back at the centre they settled him into a warm and cosy den, with soft blankets and plenty of food. He is a young cat (our vet estimates around 3 years old), was unneutered and although a longhaired puss, on closer examination it was clear to see that he was undernourished. He was cold and exhausted and his coat was none too clean and rather knotted - but he was safe now and in the right place to turn that around. They named him Santa.
On Boxing Day, Santa had enjoyed a warm and stress-free sleep and had eaten well. It was also clear that he was a friendly boy and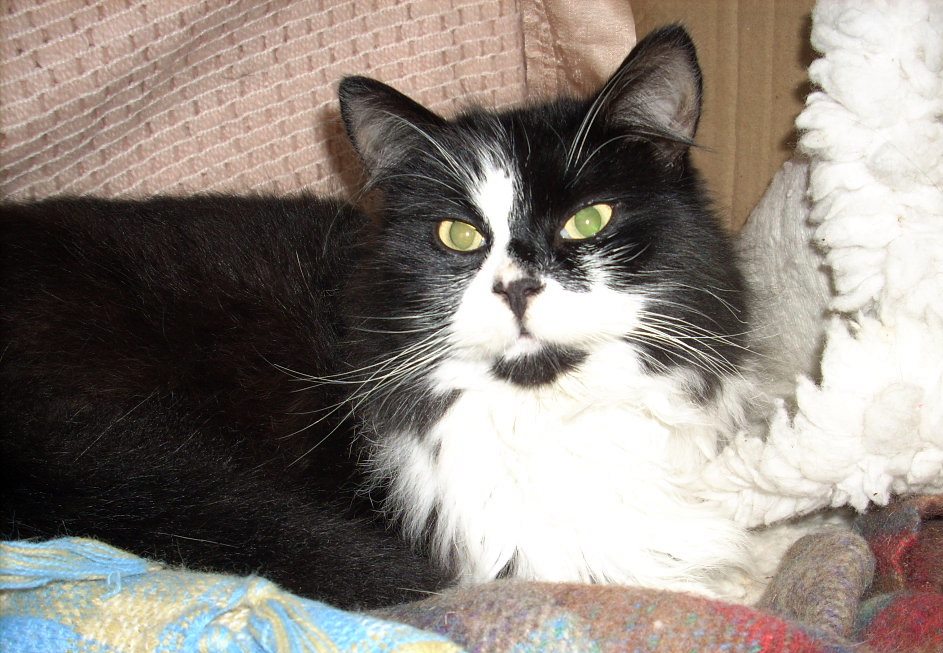 was very happy to be at the centre. He even let Ruth tease out some knots and lightly brush him!
Since his arrival, Santa has spent most of his time eating and sleeping which is expected when cats have been through the experience of homelessness. Being able to sleep deeply, without fear and having the correct amount of food to sustain him will allow him to repair his depleted body and with Ruth and Allan's care his emotions will also heal.
We have said it many times before, but please don't ignore cats that appear at your door, in your garden or near your property. Winter is a treacherous time for homeless cats and your kindness could save their life.
Thanks to a lady showing kindness to a struggling little cat on Christmas Day, Santa is now waiting in warmth and safety for a loving new home where he will be an important furry family member.