MARLEY - STORY OF A STRAY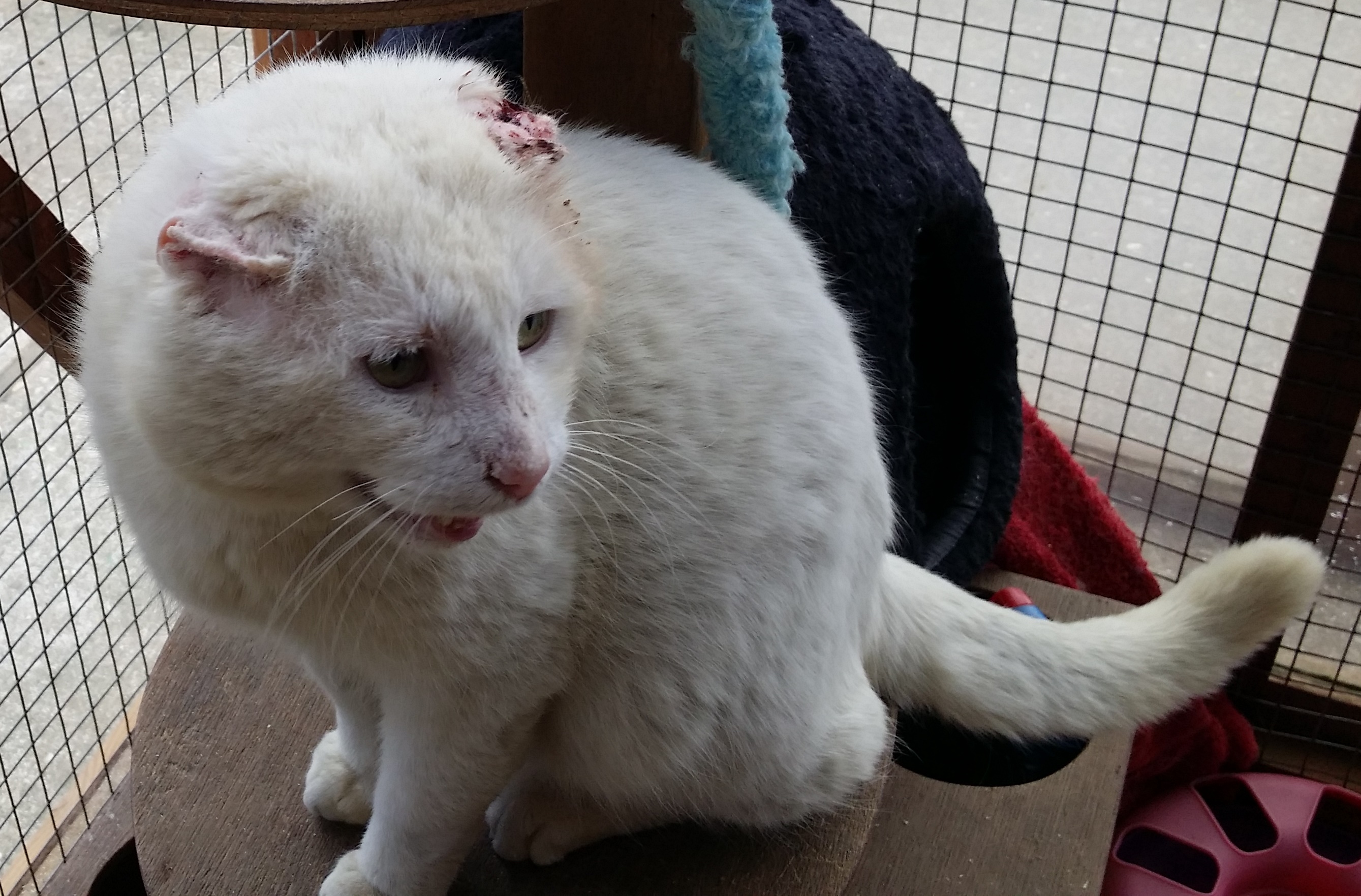 Marley was handed into our care after years of being known to be homeless. His plight was ignored to the point where some people actually voiced the opinion that he "enjoyed" living on the streets.
When he first came to us, he was filthy dirty, hungry and exhausted. It was also obvious that he had a big problem with his ears as they were both bloody and fur on his face matted as a result. On consultation with our vet, it appeared that at some point in his past he has had skin cancer which led to the removal of the majority of his ears, but that their bloodied state may be due to a fight rather than further cancer – blood tests clarified that.
In addition to that, his teeth were all broken off on one side and he had been in the vets for days with a urinary problem that had prevented him from passing both fluid and solids.
This poor cat was friendly and had clearly known what it was like to have a home, to be cuddled, to have regular meals and somewhere safe to sleep, but for whatever reason this was taken from him and he had spent the ensuing years surviving as best he could, whilst people just let him get on with it instead of helping him.
Thank goodness for the kind lady who took pity on him, but although we prayed it wasn't, we knew it may be too late for him.
Stray cats are those who have had a home with humans and they gravitate towards people because of that. Cats become stray for a variety of reasons such as death of their owner, lack of neutering leading to the cat being turned out of the home, abandonment, boredom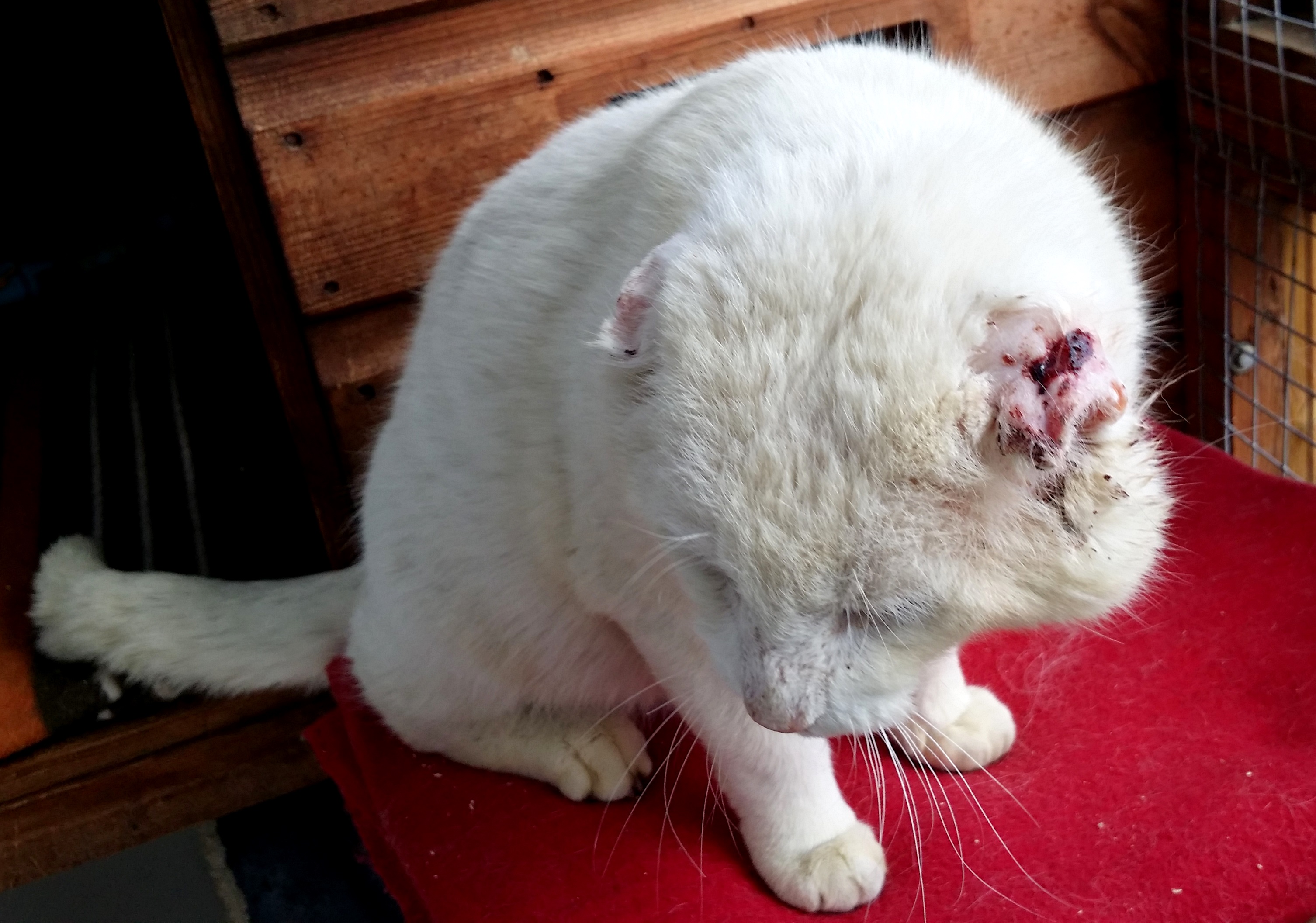 with a kitten who has grown, being let out too soon after a house move, a scare in the home such as loud arguments, changes in the home or abuse. They don't enjoy being hungry, they don't enjoy being too exhausted and in fear to clean themselves and they don't enjoy sickness that goes untreated. Contrary to out of date thinking, they are not thatgood at fending for themselves and they do need help.
If you see a cat in your neighbourhood without an obvious home, please feed them, give them water and shelter and if you are unable to offer a home yourself, inform a rescue centre. They will scan them for microchipping and where possible reunite them with their owner and if not, they will find them a new home.
An act of kindness toward a lost and struggling creature can make all the difference.
Early May 2017
After almost 2 weeks at the vets, Marley came back into our care and was slowly making a recovery. He was still weak and in need of further treatment, but the infection that prevented him from passing urine and faeces appeared to have been beaten. He still needed to be neutered, but he was too weak to undergo an anaesthetic just yet.
We would like to thank the people who fed him whilst he was homeless and to thank everyone for your good wishes and positive thoughts for Marley's recovery.

It is of course worth remembering that although of course stray cats do need food and water, what they need above all is a home to protect them from suffering ill health, stress, anxiety and danger.
We hoped that Marley would make a full recovery, but he still had a long way to go.
In his next video he was back from the vets and making headway...
Late May 2017
Marley did extremely well and had recovered from his infection. His ears were now growing a little fur and he was a happy boy.
Sadly, after all he had been through our vets have confirmed that he was FIV positive. This is something that he was likely to have contracted through fighting with other infected cats. This is a sad reality for abandoned and homeless cats and Marley had not escaped it.
He was healthy otherwise however, and we knew he would make a loving companion when the right person came along to offer him the home he needed. It had to be an indoor only home, either on his own or with another FIV positive cat or cats.
Marley was unneutered and he suffered greatly as a result. Once he had been neutered he was a happy boy, he used his litter tray and was a friendly lad.
You can read about the importance of neutering by clicking here.

June 2017
MARLEY FINDS A HOME!
We were absolutely thrilled that Marley found a loving new home with special people, experienced in caring for cats with FIV.
Earlier in June, dear Marley was given the opportunity to receive a session of holistic therapy to aid his long shattered emotions. He delighted in this attention and definitely seemed far more relaxed since this. Combined with his extended veterinary care and our daily supervision, Marley certainly deserved to be offered this ideal home. We were so happy for him as he had been through such a harsh time. Marley found a safe and loving home, but so many in his predicament do not.
Please, if you know of a homeless cat, have a cat visiting you or suspect a cat has been abandoned, don't ignore him; give him a chance of life by showing kindness, offer shelter. food and water and contact your local rescue centres. Like the kind lady who opened her heart to Marley, your actions really can change the outcome for a desperate animal.
We hope you enjoy Marley's last update video.
....Finally
Marley passed away some 18 months later. The strain of years living on the streets, of illness and infection and ultimately FIV proved to be too much for him.
However, he died with his loving owners Lucy and Ben beside him, free of all the traumas he suffered before his rescue. He experienced a truly caring home full of love and comfort and he is much missed.
We will always remember him and we hope his story has touched your heart.
© Copyright Rolvenden Cat Rescue | Registered Charity Number 1141631 | All rights reserved | 01580 241632