Minnie's Tale
(July 2018)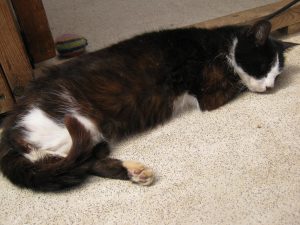 Minnie was brought to our attention during the recent heatwave which has been devastating to so many animals and her story is a sobering one.
For the best part of a week she had been heard continually crying from a neighbouring garden, but it was assumed that she must belong to the people who lived there. Unfortunately, those people – who she was begging for something to eat and drink, ignored her.
After around 5 days had passed, a weak and plaintive crying was heard from under a hedge in a front garden and when the home owners investigated, they discovered a starved and dehydrated cat lying on the ground. The people who found her realised in horror that this was the cat they had heard crying days before and did what they could to save her, which included calling us.
On coming into our care, she was close to organ shut down. She was so starved that her appetite had all but gone and she was too weak to stand or drink for herself. She was dirty and so thin that her bones were visible under her fur. She weighed under 2kg.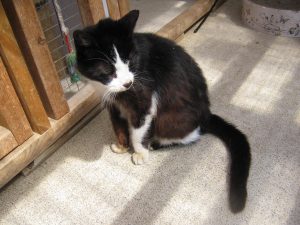 After a great deal of attention and TLC, she began to respond. She needed to eat tiny amounts many times a day and she slept for a lot. Slowly she began to gain a little strength so that she could stand without wobbling too much and we began to see some progress.
Then, on one of the hottest days of the year, Monica, one of our wonderful volunteers spotted her and her heart went out to her. She offered her a loving foster home where she could continue her recovery with plenty of home comforts. We were thrilled for Minnie and we agreed that her recovery would be helped a hundredfold by being in a caring home environment. Monica took her home with her and she is coming along in leaps and bounds! She hops up onto the sofa and loves lots of cuddles and has shown herself to be a bright and cheery little puss with a cheeky personality. She is eating and drinking well and putting on weight and is grooming herself again – all positive signs of complete recovery.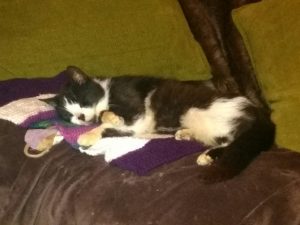 Monica adores her and would love to keep her, but it depends on how her resident cats adapt to Minnie and if they will accept her. If this is not possible, then Minnie will need a new permanent home.
Minnie's plight before coming into our care is in truth what happens all too often to stray, lost and homeless cats. They gravitate towards people for help because at some point in their lives they have known a home and kindness. Sadly, like Minnie many are ignored or they are simply shooed away, actions which slowly and painfully end the lives of these desperate creatures.
Many cats like Minnie that find themselves homeless and struggling to survive, are in that situation due to the death of their elderly owner. Too often a much-loved pet cat is discarded and thrown out by either family or community services and they are left bereft of everything they have known and often they don't go very far from the home they have lost. But whatever the reason, these cats need caring human intervention to save them from a slow and agonising death.
Minnie was brought to our attention literally in the nick of time. We always strongly urge people to be aware of cats in their garden or around their doors, to please give them food and water and take them in, or if this is not possible to inform us or their local rescue centres. It really does change the outcome for cats like Minnie.
You can see her progress in her loving foster home by viewing her video below.
August 2018
Minnie showed strong signs of improvement and enjoying life with her new mum Monica, who has this to say…
"A little update on Minnie. She is getting stronger day by day although her back legs are still wobbly……it doesn't help that I have a slippery living room floor so sometimes she goes SPLAT! She has put on weight (when I first picked her up it was like picking up a bird, she was so thin and bony), her coat is now shiny and flake free, and she is beginning to assert herself. She gets so excited when it is time for food, she squeals and bounces up and down. She sleeps a lot and has made the living room her personal domain – woe betide Big Sid if he gets too close! As yet she has not met Sadie, my tiny blind cat who has permanent residence on my bed!
Minnie is absolutely adorable, very gentle and adores being stroked. Because of her legs being so weak, I think she will be vulnerable for a long time to come and will probably always be an indoor cat now. As for me being her foster mum, it will take time for the others to get used to her, but at the moment , you'd have to break into my home to get her off me! Short of disaster with Sadie, Minnie has a home!"
© Copyright Rolvenden Cat Rescue | Registered Charity Number 1141631 | All rights reserved | 01580 241632