Jenny & Paddy – Neglected and Abandoned….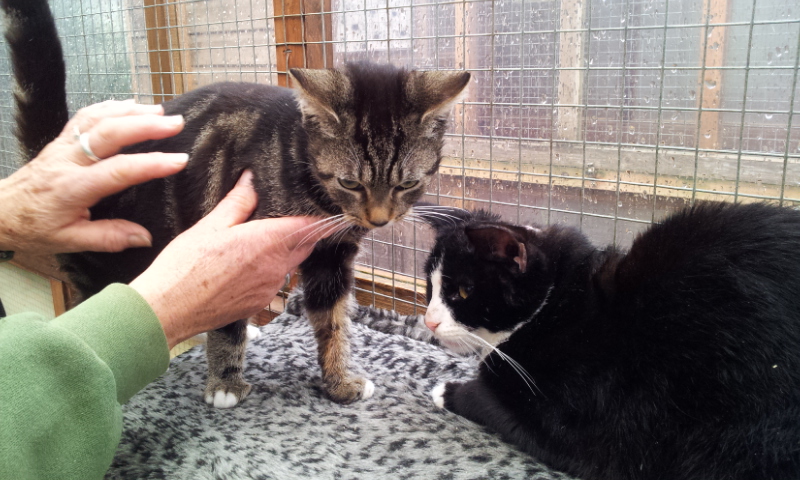 In late October 2013 Jenny and Paddy were found on a doorstep, in a taped up box. When the lady who discovered them undid the box, she was horrified to see two undernourished, dehydrated young cats, Jenny around two years old and Paddy under a year old. She began telephoning rescue centres and after having no luck finding a place for them, she thankfully called us at Rolvenden where we were able to take them into our care.
When they arrived we could clearly see how awfully neglected they were. They both had a terrible ear mite infestation which had gone untreated. Jenny had such dreadful ear mites that she had scratched her head to the extent that she had badly injured her skin. She had no fur covering the top of her head and the whole area was a large, weeping sore. (By the time we took this picture, she was undergoing treatment and it was much improved).
We quickly got them to our vets and began treatment immediately. Poor little Jenny needed pain relief and antibiotics in addition to ear mite treatment due to the extreme nature of the infestation. Paddy's ears were completely blocked and he was clearly distracted by the pain and irritation.
We are happy to say that both kitties improved after a few weeks of care and were altogether happier cats.
Ear mites cause considerable pain and discomfort and if untreated can cause permanent damage to hearing and the structure of the ears. It is imperative that any infestation is dealt with swiftly and is not neglected as it will most definitely not just go away.
You can read more about ear mites by browsing our neutering and care pages, or by clicking here.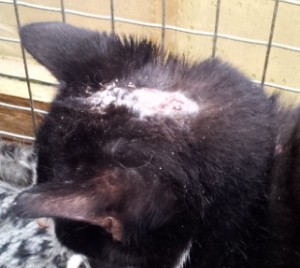 Copyright © Rolvenden Cat Rescue | Registered Charity Number 1141631 | 01580 241632 |All rights reserved