Saved! – 10 Day Old Lost Kitten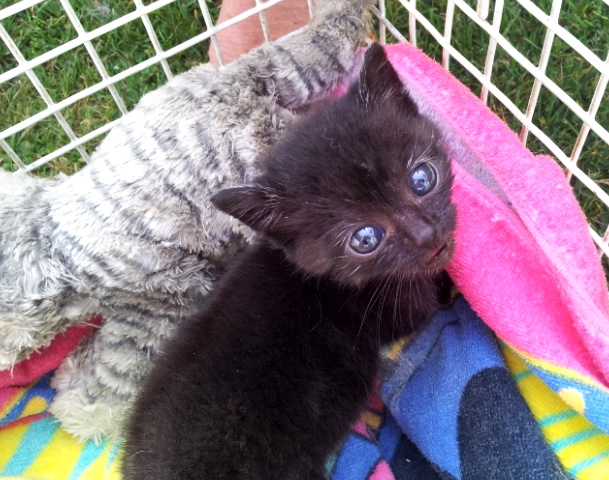 This dear little kitten was found all alone, mewing for his life. It appears that his mother was moving her litter of kittens to a place that felt safer to her and he became lost in the process. This sometimes sadly happens when stray or feral mother cats have given birth outside as they frequently move their kittens to different places of safety. A tiny lost kitten is extremely vulnerable and needs to be found quickly for any chance of survival.
The farmer who found him, left him where he was for some time, but his mother didn't return. It was clear that he was becoming weak, so he took him indoors and looked after him overnight. However, the next day he contacted us as he was worried that he wasn't responding and was so very tiny.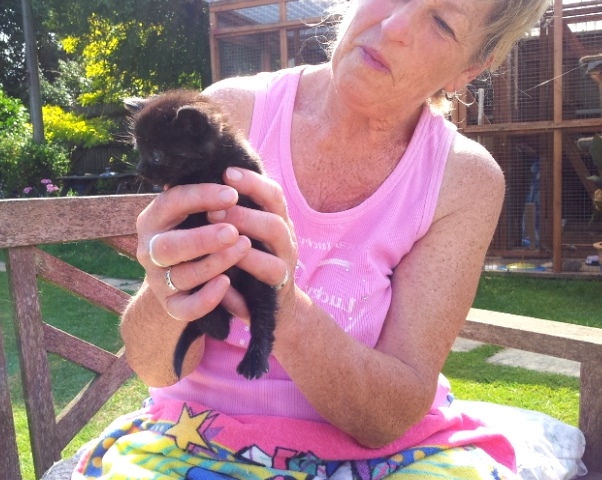 We brought him into our care and after an initial touch and go 24 hours, we are happy to say that he is getting stronger day by day. His care entails pipette feeding him the correct kitten formula milk every two to three hours, keeping him clean and making sure he goes to the toilet. Kittens are unable to do this for themselves until they are around 4 weeks of age and in the absence of his natural mother, we have to help him with this. We also keep him massaged as his mother would, to stimulate his digestion and circulation.
He is now two and a half weeks old and is a happy and very vocal little chap who we have named Jumbo-Khan. We will keep you updated with his video diary over the coming weeks and have posted the first one below which we hope you enjoy.
Jumbo-Khan's First Video Diary – 4th September 2013 – Aged two and a half weeks:
Jumbo-Khan's Video Update – 14th September 2013
Little Jumbo has become a real part of the family. He lets us know where he is at all times as he likes to exercise his voice whenever possible!
Jumbo & Spike – Video Update – 8th October 2013:
Those of you who followed our Facebook page back in 2013 will know that Little Jumbo got a friend. Spike was a little lone kitten who was handed into our care and from the moment Jumbo and Spike met, they have became the best of friends.
They are playful, friendly and incredibly cute little darlings and we love playing with them!
A Home For Jumbo, Spike & Evie – November 2013
We are so happy to be able to say that Little Jumbo found a wonderful home with not one but two companions, his pal Spike and Evie who was also a lone kitten. Evie had shockingly undergone ear-tipping and spaying as a tiny kitten and was destined to be thrown back where she was found to fend for herself.
Their new home is with Aimee and Nick who took all three of them, ensuring that they could stay together.
It is a miracle that these kittens are alive at all as they each had a very hard start in life. But now, they have a safe and happy life ahead of them in a loving home.
This is the last of Jumbo's video diaries, which we hope you will enjoy.
Copyright © Rolvenden Cat Rescue | Registered Charity Number 1141631 | 01580 241632 |All rights reserved